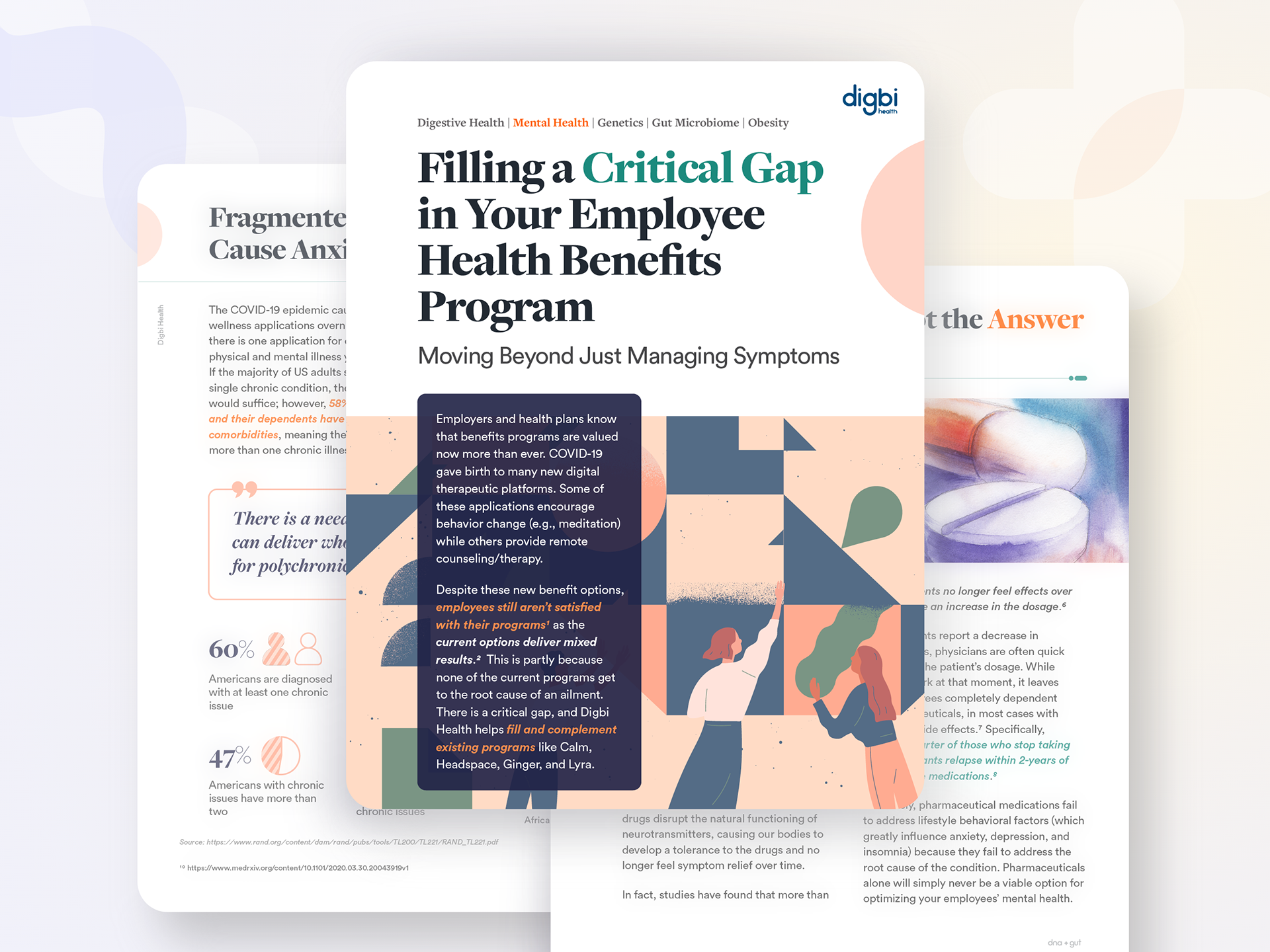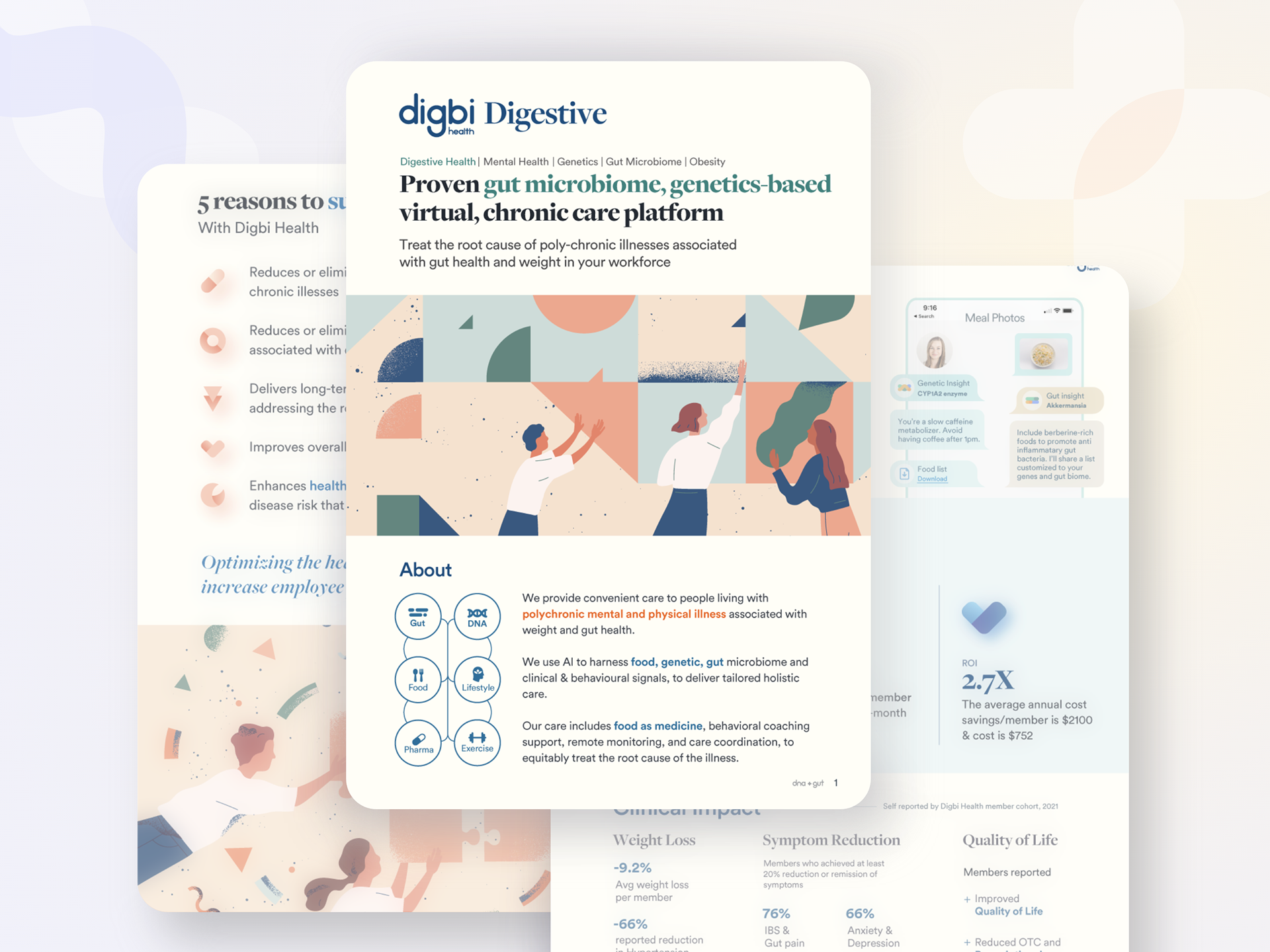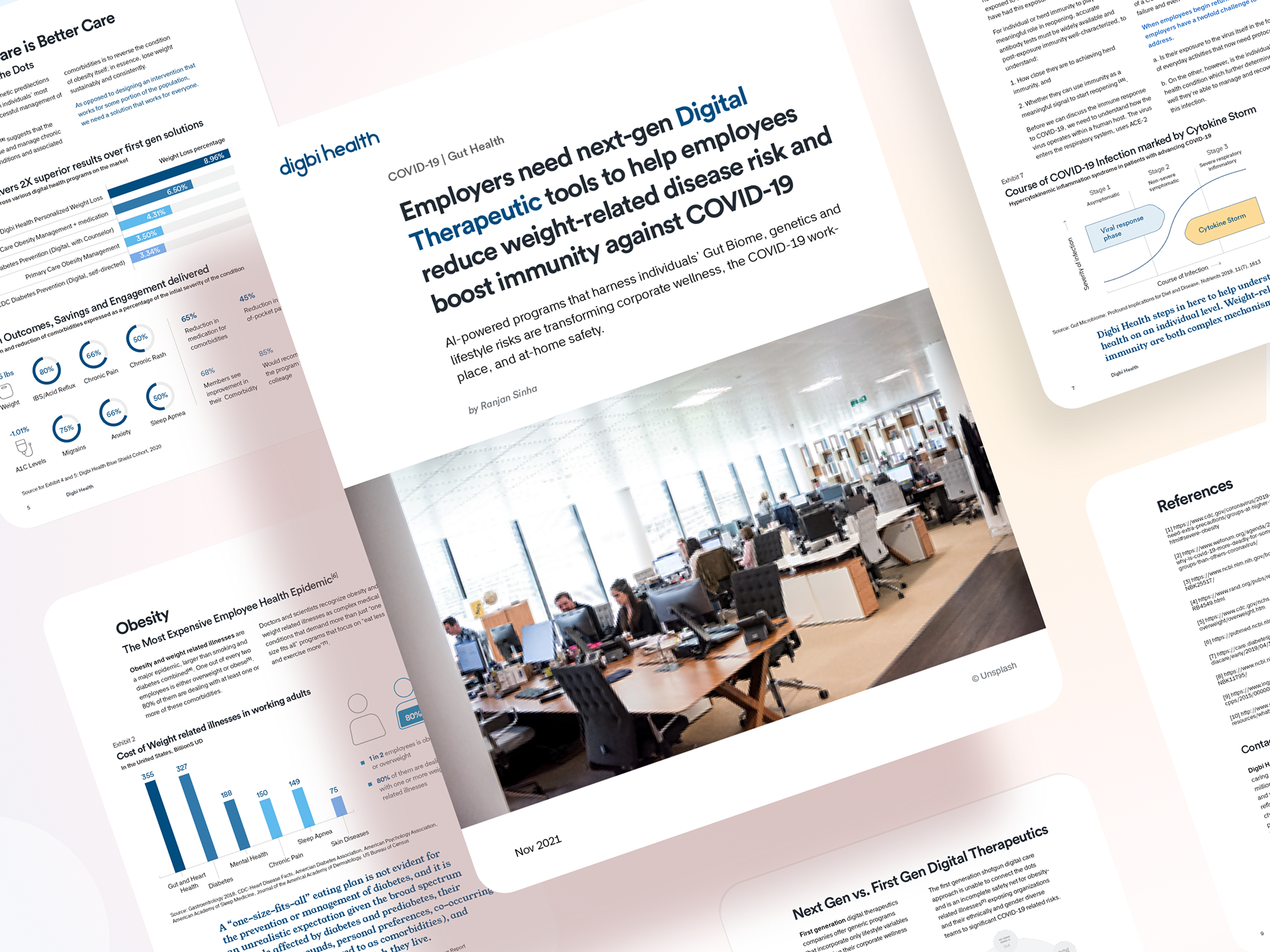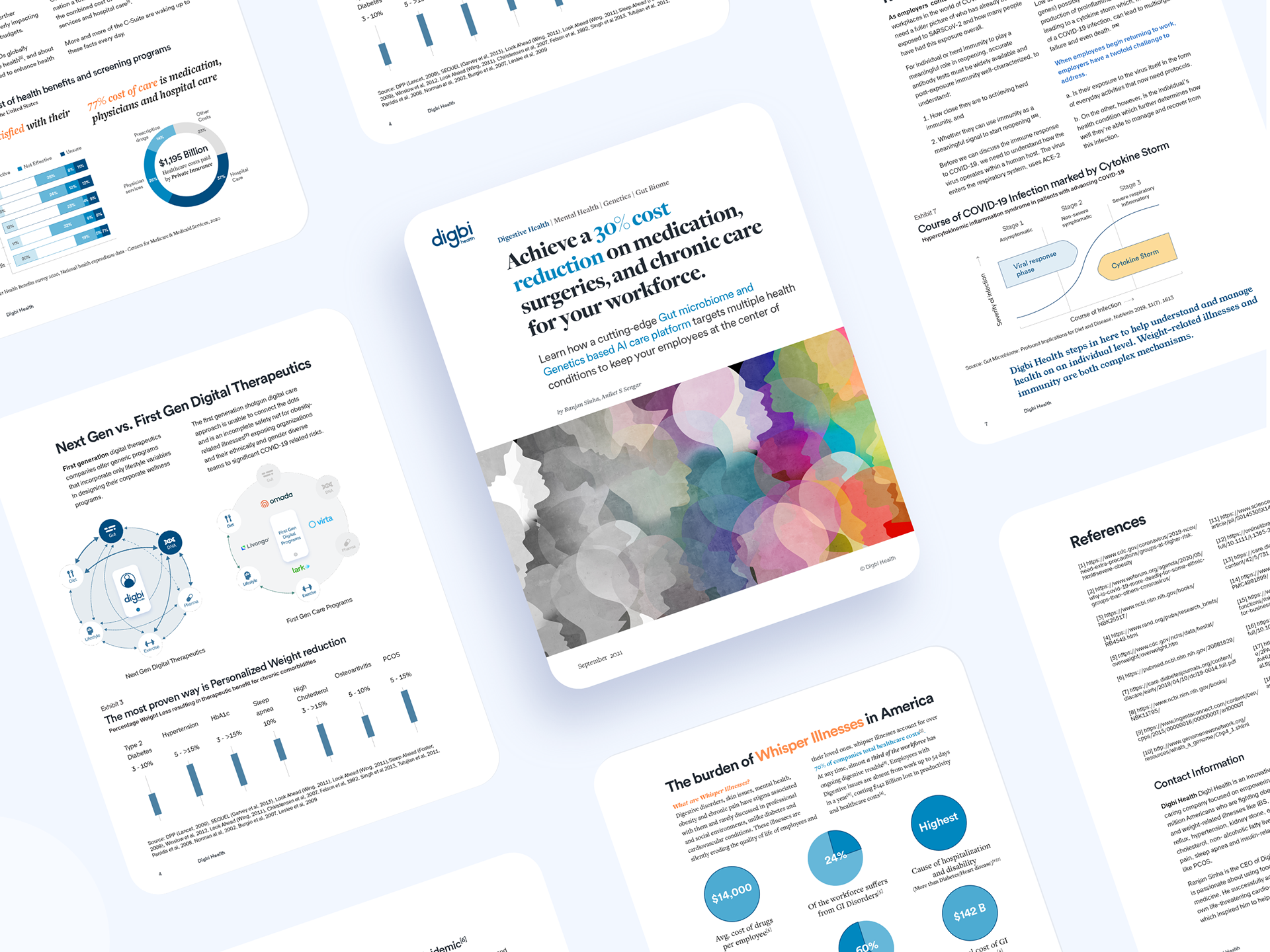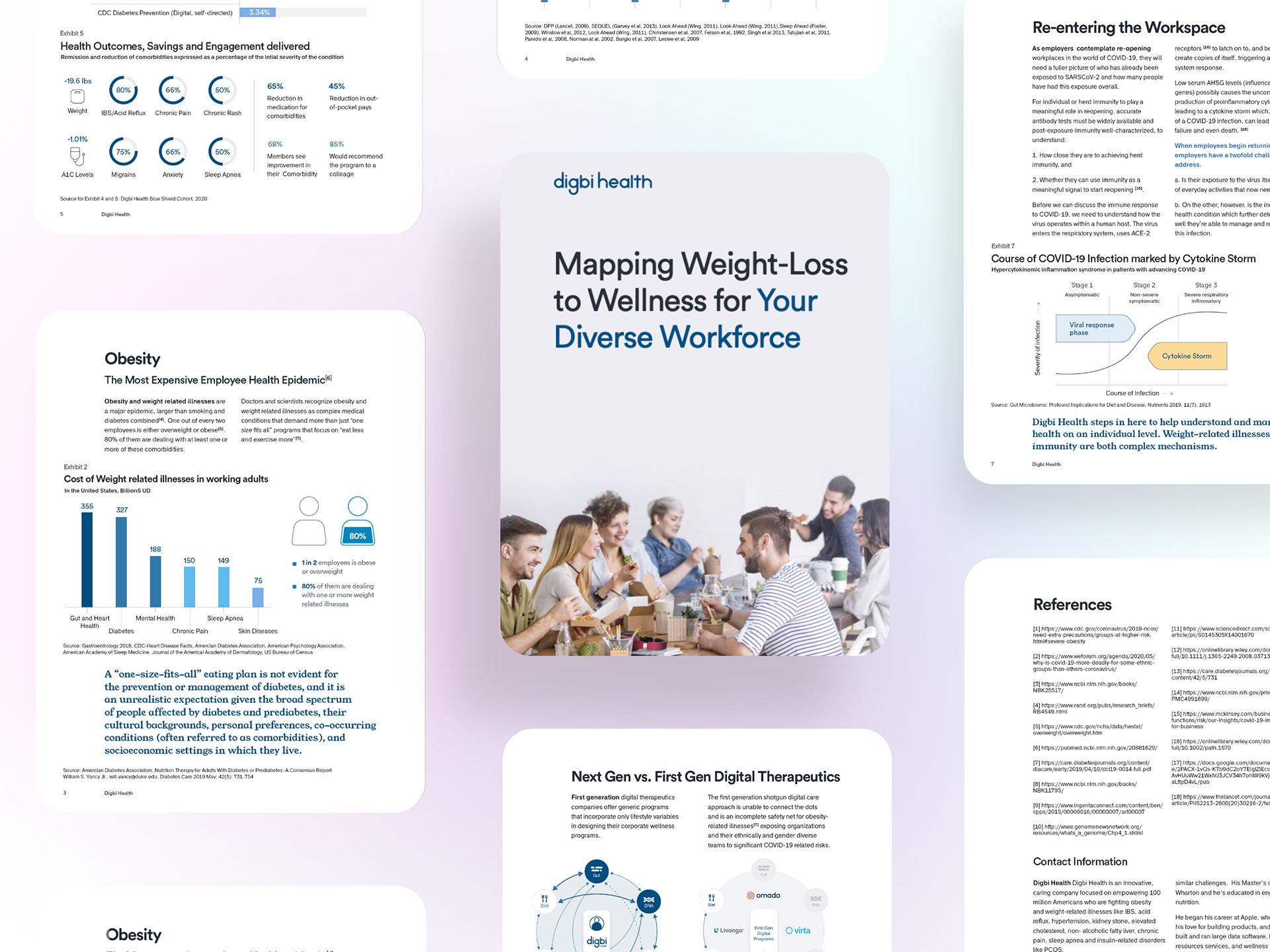 White papers for a Health Tech business 


(B2B Design)
Digbi Health - a virtual chronic care provider, based in California, uses Gut Biome and genetic testing to determine the right food and lifestyle to help its members stay disease-free for life. 
After raising their Series A round, Digbi Health wanted to extend their health benefits platform to employees across America. They demonstrated world-class health outcomes and industry-leading patient engagement on the product end. 
Still, they had a key business challenge: Build a thought-leading healthcare brand that appeals to HR and Benefits leaders in the US, so their sales teams can quickly close deals and maximize covered employees in the program. 
We created a series of pre-sales and marketing collateral for Digbi Health. The narrative promoted Digbi Health as an industry-leading brand by combining modern business visuals with stellar health outcome data. 
We used a combination of serif + sans serif fonts to visualize editorial authority and clean reporting of business metrics. 
We did a brief Positioning exercise with the management team to define customer personas, competitive differentiation, and value proposition for the business. The activity ensured that all collateral would use similar language and tones and revolve around broad healthcare themes central to the brand. 
Marketing Ops integration
We uploaded all pre-sales collateral, and white papers were on the central company server (Shopify), with a re-direction set up on Digbi Health pages to track the source of clicks. 
We tagged Each link in the collateral with a specific UTM to estimate which collaterals, campaigns, or ads were performing the best for us.
We set up LinkedIn Ad campaigns, and email drips targeted to industry sectors and geographies to club personas together and consistently A/B test messages and ad creatives.
We connected all ad + email campaigns to the company's CRM - FreshSales to see all campaign metrics on a single dashboard.
We generated 500+ relevant B2B prospect leads within a month through all the sales collateral and white papers we created. Since the deal cycles are very long in the American health insurance/health care sector, we're yet to close deals and acquire customers from the lead-gen effort.